The eighth annual Purdue Day of Giving is Wednesday, April 28. Come together with the Purdue community throughout Indiana, across the country, and around the world as we help the entire University take its next giant leap to build a better world together. 
For 24 hours, students, alumni, faculty and staff, parents, retirees, and friends are encouraged to meet the challenge and give back to grant opportunities and transform lives at Purdue. Participation in hourly and full-day challenges can make your gift go even further, and any donation to the Purdue Alumni scholarship fund or a club/network scholarship fund can help us claim a top spot on the donation and participation leaderboards for additional bonus funds!
Every gift matters and is appreciated. Even a $10 donation (the minimum to donate) can make a big difference!
The Purdue Day of Giving website is https://dayofgiving.purdue.edu/.
The Purdue Alumni page is https://dayofgiving.purdue.edu/organizations/purdue-alumni-association. Club leaderboards will appear on this page on April 28.
Clubs are not required to communicate about Purdue Day of Giving, but we encourage you to do so! Feel free to share content via your social channels at any time. The Purdue for Life Foundation will send an email around April 22 that will promote giving to club scholarship funds during Purdue Day of Giving. Due to the volume of emails sent to promote the event, individual club emails will not be sent.
Bonus Fund Challenge
We will host a challenge with a total of $10,000 in bonus scholarship gifts awarded to up to 11 clubs to encourage your participation during this year's Purdue Day of Giving. The challenge is available to clubs with scholarship funds held at Purdue.
Eleven awards will be provided, and a club may win bonus funds in both leaderboards.

Example: if the Purdue Alumni Club of Tippecanoe County places #3 in total gifts and #2 in total dollars, that club will win $2,000 as a bonus scholarship gift.

Live leaderboards will be hosted on Purdue Alumni's Purdue Day of Giving page. When making a donation, it is as simple as selecting your club fund from the list on that page and entering your gift amount.
Club
Place
Bonus Amount
Leaderboard by Total Gifts
Unit A
1
$2,250
Unit B
2
$2,000
Unit C
3
$1,000
Unit D
4
$750
Unit E
5
$500
Unit F
6
$250
Unit G
7
$150
Unit H
8
$100
Leaderboard by Total Dollars
Unit A
1
$1,500
Unit B
2
$1,000
Unit C
3
$500
Social Media Content
TEXT
Help us show the world what it means to be a Boilermaker!
The eighth annual Purdue Day of Giving is April 28! When you make a gift to our club scholarship fund, you're helping to empower future leaders, innovators, and relentless dreamers. Every gift matters—it only takes $10 to make a difference. When we stand together, we can accomplish something big.
#PurdueAlumni #PurdueDayofGiving #Boilermakers
Social posts URL: https://bit.ly/31SmR76
Currently, we can only link to the main PDOG website due to an issue with Facebook. This URL will be updated with a direct link to the Purdue Alumni page when the issue is fixed.
IMAGES
SOCIAL MEDIA PROFILE + COVER PHOTOS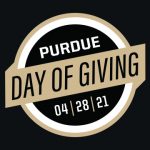 PHOTOSHOP TEMPLATE
If you'd like to use club photos in social promos, you can download a blank template and add your image in Photoshop.