About the Purdue Black Alumni Organization
In December 1980, the Purdue Black Alumni Organization was founded at the Commemorative Conference to recognize the 10th anniversary of the Black Cultural Center and the first Black alumni reunion.
We are an inclusive group of alumni, friends, faculty, and staff committed to the advancement of the Black community at Purdue. We support people of color at Purdue by:

  • Advocating for the recruitment and retention of students
  • Increasing financial support for students and alumni
  • Providing a supportive network
  • Serving as a voice for their interests
Our Objectives From the 1980 Constitution
  • Promote the interests of its members and act for their mutual benefit
  • Provide a worldwide network of Black Purdue alumni who support the university and seek to      encourage and develop excellence in students
  • Increase Black alumni participation in the university's affairs
  • Contribute to the financial support of the university
  • Assist in the recruitment, matriculation, retention, graduation, and placement of Black students
  • Aid the university and the Purdue for Life Foundation in meeting the specific needs of Black      students, alumni, faculty, and staff
  • Establish and promote goals that help strengthen the ties between alumni, the university, and the      community
  • Disseminate information about the university, including the achievements of Black alumni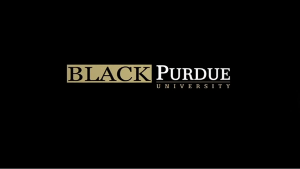 You can learn more about Purdue's Black history in Black Purdue, a feature-length documentary that begins with David Robert Lewis (CE 1894), one of the first Black students at Purdue.
Black Purdue takes us from a world of exclusion and isolation through cataclysmic social change and seminal student protests, ushering in an era of achievement at Purdue. Black social change was once confined to a corner in the Sweet Shop, but it eventually became part of the mainstream on campus and in the curriculum, sparking the attention of faculty and the Board of Trustees. Black Purdue is a remarkable tale of evolution that inspires us to believe in the power of hope.