Mindy Schultz remembers a time when she repeatedly drove her car over a small tree by mistake. Now, she plants trees—with purpose.
Schultz, a lead administrative assistant in Purdue University's Department of Pharmacy Practice, redeemed herself by volunteering to plant trees during the 2023 Purdue Day of Service. The event, which took place on Friday, October 27, saw a record 158 Boilermaker faithful plant 214 trees at two locations on the university's West Lafayette campus.
Volunteers have now planted 601 trees over the three-year history of Purdue Day of Service, which is hosted by the Purdue for Life Foundation.
"One thing I can tell you about me and trees is that I used to run over one when my kids were little," says Schultz, who has attended all three Purdue Day of Service events. "My daughter brought a sapling home from school when she was in kindergarten. We planted it near the driveway, and I swear I ran that thing over four or five times. But it lived, and it's a really big tree now! So, I may not have a great history with trees, but I feel like I'm making up for that."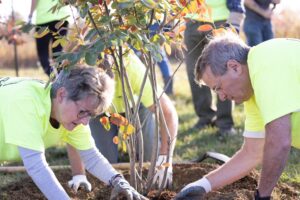 This year's Purdue Day of Service took place over two two-hour sessions, one in the morning and one in the afternoon. The morning session was held at the corner of Cherry Lane and McCormick Road, near the Purdue Northwest Recreation Fields and the Purdue Student Farm. The afternoon session was held on Grant Street near the Wade Utility Plant. 
Schultz volunteered during the morning session, working alongside staff from Purdue Physical Facilities to plant a variety of trees native to the region.
"I keep coming because it's fun, and it's something outside of work that I can do for Purdue," Schultz says. "I've been here 21 years, and Purdue keeps building and building and building. It's nice to see something going up other than more brick. I like the fact that we're out here, doing our part to make Purdue beautiful, too."
Purdue Day of Service has quickly become a signature campus attraction.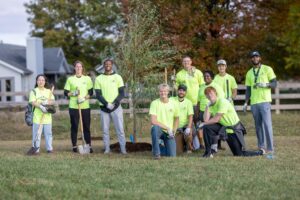 For the inaugural event in 2021, more than 100 volunteers came to campus to plant 62 trees and perform beautification work. Last year, the registration limit was reached in a matter of hours – and the total number of trees planted skyrocketed to 325.
A shared enthusiasm and sense of purpose remained strong among this year's volunteers.
"This is my first Purdue Day of Service, and I'm a little surprised by how many people are here," says David Fuhrman (T'81), a retired U.S. Marine from Bainbridge, Indiana. "I was expecting 15 people, maybe 20. Instead, there are a whole bunch of people here, all raring to go, and that's great to see. I think getting people to volunteer for something like this is an important initiative, and it's nice to hear that it's catching on."
Purdue student Olivia Hutchings, a senior from Geneva, Illinois, was also a first-time participant.
"I have really loved my time at Purdue, so I wanted to come out, get more involved with the community, and just help out," Hutchings says. "It's been a lot of fun, being able to talk to alumni and other people who love Purdue. We're all here for the same reason. I think it's important for people to feel that sense of involvement, of coming together and feeling like they are part of something special."
Purdue University and Purdue for Life created Purdue Day of Service to encourage alumni and friends of the university to embrace volunteerism. This event aligns with Purdue's 1869 Tree Planting Master Plan, which calls for planting 3,738 trees by fiscal year 2025, and the Sustainability Master Plan. The total number of trees to be planted was determined by doubling 1,869, which is the year Purdue was founded.
The event also reinforces Purdue's standing as an Arbor Day Foundation Tree Campus Higher Education institution, an honor the university has held since 2009. The program has recognized green colleges and universities since 2008.
"When we originally came up with the idea of a dedicated day of service, we had no idea how well it might work—expecting our alumni and friends to come back to campus to do work, outdoors and potentially in bad weather, is asking a lot," says Courtney Cassady (M'04, MS HHS'06), senior director of outreach and volunteerism for Purdue for Life. "Now, we have people stepping up year after year. We see new faces every year, too, as the word gets out and our momentum continues to build. I'm always proud to be Boilermaker, but I'm especially proud today."
The Purdue for Life Foundation created a video and photo gallery to commemorate the 2023 Purdue Day of Service.
If you couldn't make it to the event but would still like to contribute, you can donate to the Purdue Campus Beautification Fund. And stay tuned—Purdue Day of Service will be back in 2024. To be sure you don't miss out, keep an eye on the Purdue for Life Foundation website and social channels for updates.