Volunteers Brave Weather to Complete Purdue Day of Service Mission
Kathleen Rose (LA'76) has Purdue University in her blood and a strong desire to give back in her heart. Nothing was going to keep her away from the inaugural Purdue Day of Service, which took place October 29 on Purdue's West Lafayette campus.
Rose, who is the daughter, sister, wife, and mother of Purdue graduates, drove more than 120 miles from her Connersville, Indiana, home and braved ominous fall weather to attend the event. She joined dozens of other volunteers from the Boilermaker family who, together, exceeded all expectations while planting trees and performing beautification work on campus.
In the end, 111 volunteers planted 62 trees near the corner of McCormick Road and Third Street and distributed more than 100 cubic yards of mulch at Horticulture Park. Members of the Purdue Physical Facilities staff, which showed up in force for the Day of Service, estimated that the work volunteers did on this one day saved them at least two weeks of effort.
"I truly believe in giving back to your communities, and Purdue is one of my communities. Purdue was always just part of our lives," says Rose, who attended the event with her sister, Colleen Pearson (S'78, MS M'80). "I enjoy this kind of stuff. My sister lives in Lafayette, so when the Day of Service came up, it was perfect. I was going to be here, no matter what."
Purdue University and the Purdue for Life Foundation created the Purdue Day of Service as a way to encourage Purdue alumni and friends of the university to embrace volunteerism. This year's event aligned with the University's 1869 Tree Planting Master Plan, which calls for planting 3,738 trees by fiscal year 2025, and the Sustainability Master Plan. The total number of trees to be planted was determined by doubling 1,869, which is the year Purdue was founded.
The event also reinforced Purdue's standing as an Arbor Day Foundation Tree Campus Higher Education institution, an honor the University has held since 2009. The program has recognized green colleges and universities since 2008.
"Nothing against the trees but I came to volunteer—I'm here for whatever day of service it was," Rose says. "As it turned out, it was planting trees, which is a great thing for Purdue and the coming generations of students. Volunteering gives you a very satisfying feeling, knowing you're doing something that helps future generations. It's a pay-it-forward kind of thing."
Po-Yu Liang, a graduate student from Taiwan who is studying chemical engineering, showed up before registration even opened and was the first volunteer to wear an official Purdue Day of Service T-shirt. Liang, who is in his second year as a Purdue student but has only been on campus for a few months because of COVID-19 restrictions, cited multiple motivations for volunteering.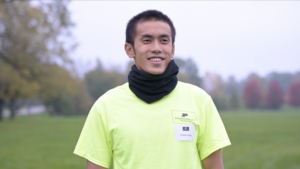 "The first reason I volunteered is that I think the best way to get to know a place is to put yourself out there in the community," Liang says. "Another reason is that everything about the COVID pandemic made me much more grateful for what I have. I have received a lot of help from Purdue—before I got here and since I've been here—so I really think this was a good chance for me to give back to Purdue."
Volunteers worked in two-hour shifts during the Day of Service, contributing either in the morning or in the afternoon. All were welcome to free lunch between shifts, when they heard remarks from Michael Gulich, university architect and senior director of campus planning, architecture, and sustainability, and from members of the Purdue for Life Foundation leadership team.
Naomi Matley is senior assistant director of fitness and special programs for Purdue Recreation and Wellness. She was one of several volunteers from her department who shrugged off the weather and showed up to do the dirty work during the morning shift.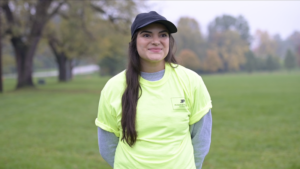 "We're all out here, happy to help, because this is close to our hearts. Our campus is something special," Matley says. "We're a competitive group, so we were ready to roll up our sleeves, plant as many trees as possible, and get as much done as we could. We're Boilermakers, so we were ready to get muddy—whatever it takes!"
If you couldn't make it to the Day of Service but would still like to contribute, you can donate to the Purdue Campus Beautification Fund. And stay tuned—Purdue Day of Service may be back as early as spring 2022. To be sure you don't miss out, keep an eye on the Purdue for Life Foundation website and social channels for updates.