Show your Purdue pride while supporting our University! The license plate program, which began in 1991, has raised more than $13.6 million for the Purdue Scholarship Fund. An annual donation of $25 is required to purchase the plate in addition to other vehicle registration fees.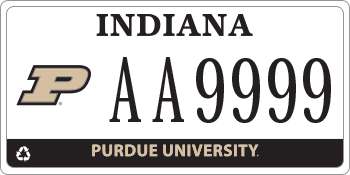 Indiana drivers
Visit your local BMV office and request a Purdue plate. Your donation will be collected by the BMV. Plates can be renewed online at the Indiana BMV web site. The Purdue plate is for passenger cars, recreational vehicles, motorcycles, and trucks up to 11,000 pounds.
Outside of Indiana
Purdue plates are available in Delaware, Maryland, North Carolina, Pennsylvania, South Carolina, Tennessee, and Texas. Contact your local Department of Motor Vehicles for more information.
The following states have been asked to offer Purdue plates but currently do not allow out-of-state collegiate plates: Colorado, Florida, Illinois, Michigan, Ohio, and Wisconsin.
Each state has its own regulations for specialty plates, ranging from an act of the state legislature to a required minimum number of participants.
Get your state involved
Want to get your state involved? Follow the steps below:
Contact your state's Department of Motor Vehicles to find out if out-of-state collegiate plates are allowed.
If such plates are allowed, find out what your state's DMV requirements are for getting a Purdue plate issued. Someone from an alumni club or other organization may need to be responsible for collecting names, addresses, and money for the initial order and for working with the DMV and Purdue on the design of the plate.
Questions?
For questions about the license plate program, call us at 800-319-2199 or send us an email.