Stewart Center Renovation
A modernized Stewart Center will become the home of Purdue's student services, including admissions, enrollment management, and financial aid. Designated spaces for student organizations will also be renovated to create a more open and lively atmosphere.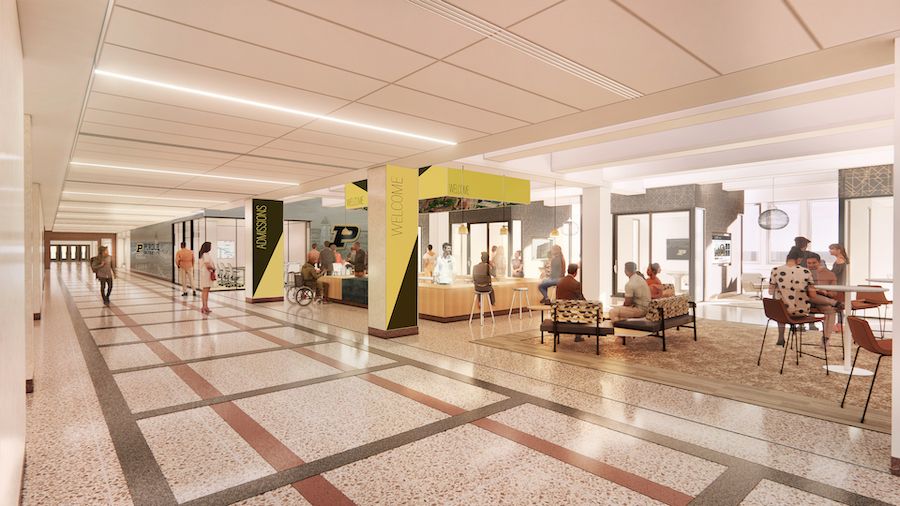 Beginning at the entrance from the Purdue Memorial Union, daylight will pour into the main level corridor, creating a welcoming atmosphere for everyone. The cohesiveness of the relocated student services will ensure that students know where to go for assistance from their first visit to campus.
Designed to be a beautiful spot to showcase Purdue, this is where prospective students and families on tours will watch an incredible welcome video. The theater will seat 150 students—much more than is currently available—and some of the chairbacks will feature quotes from Purdue legends.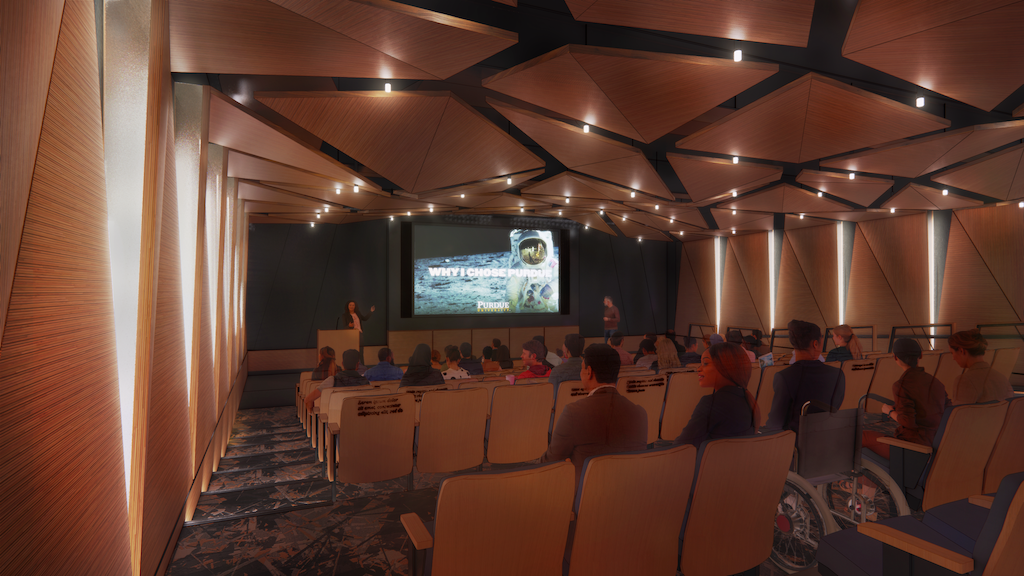 While the corridor is being designed with more modern features that bring in more light, there will always be room for tradition and history at Purdue. That's why one of the first things prospective students and families will see is the Griffin displayed proudly in the architecture of the Admissions Department's welcome desk.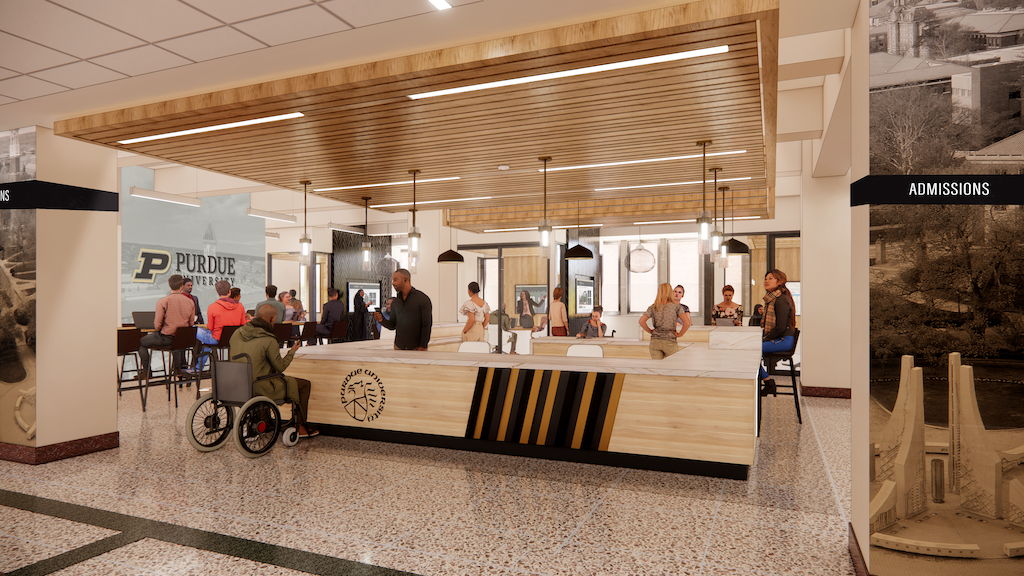 The new location for the LGBTQ Center will allow for a much-needed expansion of programming in a contemporary facility. Designed to be open and accessible, the center's new home will be inside the Hicks Undergraduate Library to give students the space they need, as was determined in Purdue's recent diversity and inclusion study.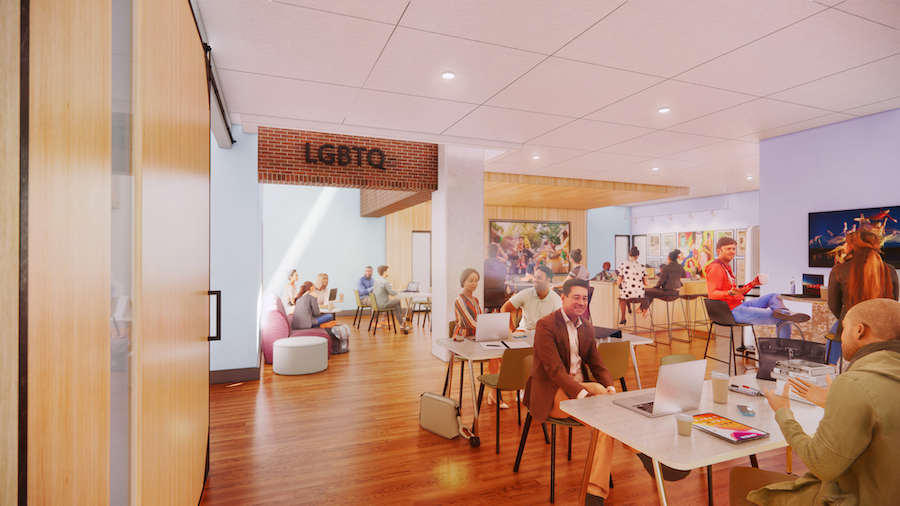 Student Organization Complex
After regular business hours, casual spaces and huddle rooms on the first floor will become available to students for collaboration, group work, and organization meetings. The complex will continue to the basement, where student organizations can enjoy their specific rooms and offices as well as an open coworking space. A beautiful staircase will allow for a visual connection between the two floors.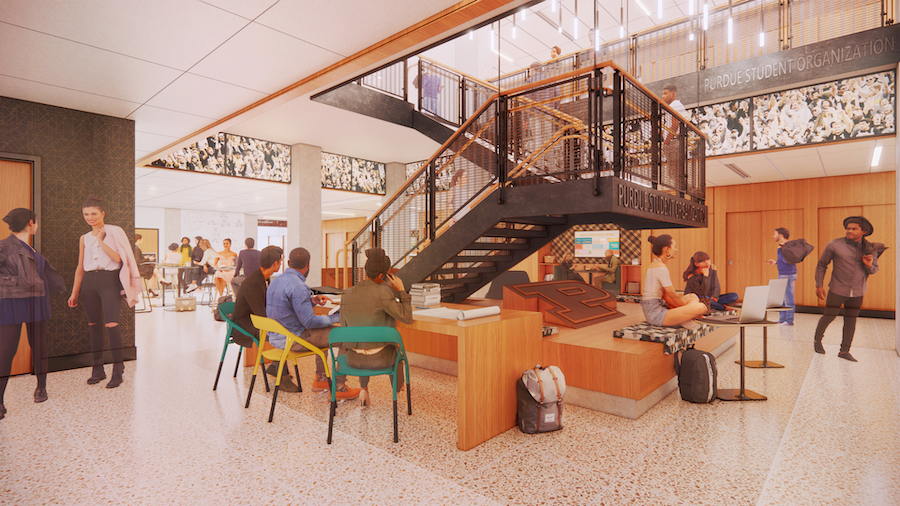 Additional Naming Opportunities:
Bursar Suite
Collaboration Spaces
Coworking Spaces
Dance Studio
LGBTQ Offices and Rooms
Meeting Rooms
Registrar Suite
By
supporting the Stewart Center renovation,
you are ensuring that prospective students and their families are provided with an incredible experience from the moment they step onto campus, and you are giving current students the best spaces to make lasting memories.
Contact Daniel Bolsen at dabolsen@purdueforlife.org or at 765-494-0252 to learn how you can support this project.