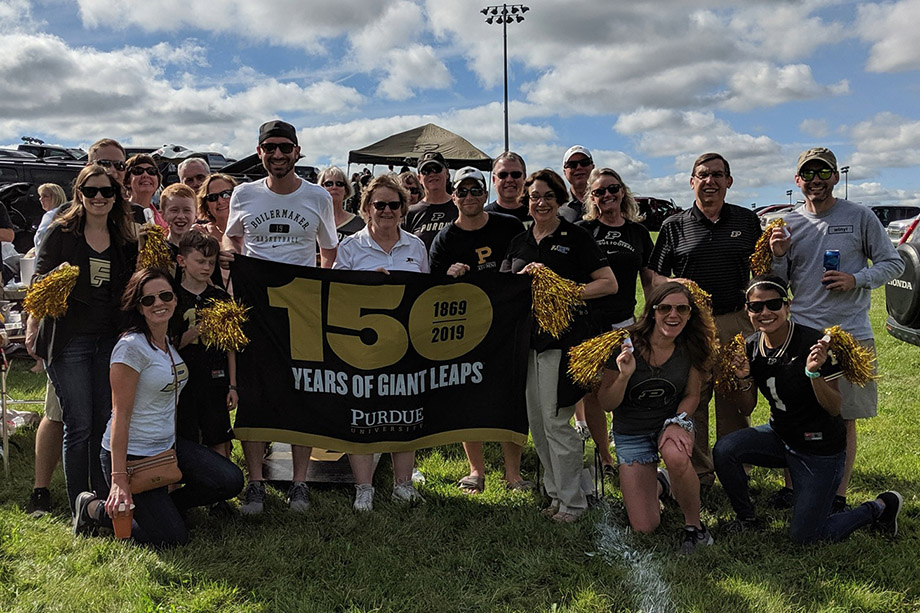 Welcome
The Purdue Alumni Club of Cincinnati takes pride in bringing together and engaging local alumni of Purdue University across the club's geographic region Cincinnati and northern Kentucky.
The purpose of this club is to promote Purdue University and the Purdue Alumni Association through involvement and support of local community activities and to provide opportunities for networking among alumni, friends, and students.
Game watch parties (football & basketball) at the Purdue-owned brewery – March First Brewing and Oakley Pub & Grill
Host annual golf outing and dinner in May
Volunteer at Matthews Ministries 25
Host joint watch parties with other local Big Ten alumni clubs of Cincinnati
Partnering with the Big Ten Alumni Club of Cincinnati for select events
The Purdue Alumni Club of Cincinnati continues to attain Gold Status Recognition from the Purdue Alumni Association for excellence in programming and service to local alumni and the community. This recognition has provided us with the opportunity to gain revenue sharing funds from the Purdue Alumni Association to support our local efforts.
The board would like to thank all of our generous alumni members, donors, and volunteers for your support in achieving the Club's goals. We could not have done it without you!
To support our on-going efforts, get involved with the Purdue Alumni Club of Cincinnati!  We encourage you to join the Purdue Alumni Association.  All are welcome – Purdue Alumni, their families, and friends of Purdue.
Game Watches
Our official game watch location is the March First Brewery & Distillery (Purdue-owned)
March First Brewery & Distillery
7885 E Kemper Rd
Cincinnati, OH 45249
marchfirstbrewing.com
Scholarship
The Purdue Alumni Club of Cincinnati will again be awarding scholarships to freshmen entering Purdue University in the Fall Semester. We awarded four $2000 scholarships in 2019. We expect to award similar dollars in the future.
To be eligible for the scholarship, current high school seniors must meet the following criteria:
Candidates must reside in one of the following counties: Hamilton, Butler, Warren, or Clermont (Ohio); Kenton, Campbell, or Boone (Kentucky); Dearborn, Franklin, Ohio, or Ripley (Indiana).
Incoming freshman must have a combined SAT of at least 1400 (Critical Reading and Math) or an equivalent ACT (about 32), and rank in the top 25 percent of their graduating class.
Candidates must submit a Purdue Club of Cincinnati Scholarship application. See the link below.
Financial need (as determined by federal and university guidelines) will be an additional factor, but not required; each applicant is encouraged to apply for financial assistance through the Purdue University Division of Financial Aid (765-494-5050).
Applications are due by March 1 and will be awarded on or before April 15 for the upcoming academic year.
We hope to hear from you soon! Hail Purdue!
Contact Us
Melissa Plourde
presidentpurduecincinnati@gmail.com
Purdue for Life Foundation
alumniclubs@purdueforlife.org
Social Media