Bob Bowen (CE'62, HDR E'07) may be semiretired and approaching 84 years old, but his wheels are always turning. Literally.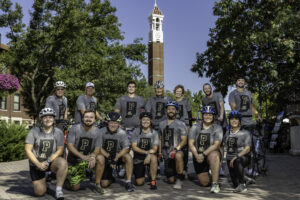 Bowen has at least two enduring passions—Purdue University and bicycling—and he has found a clever way to celebrate both loves at the same time. Once a year on the day of Purdue's first home football game, Bowen leads a bike ride from Indianapolis to Purdue's West Lafayette campus in celebration of the Boilermakers and new beginnings. 
The latest ride will take place before Saturday's game against Fresno State, and it will mark the 20th time Bowen's bikers have celebrated this festive tradition.
"This is easily the most fun thing I do every year," Bowen says. "I love it, I really love it. I'm always excited to get up early, go for a ride, and then go to a great Purdue football game. It was so much fun the first year we knew right away that we were going to do it again the next year. Now, everybody knows we're riding to that first game. It has turned into something special."
Bowen, who lives in Indianapolis with his wife, Terry, is a longtime university benefactor and unwavering supporter of Purdue Athletics. He also remains connected to the university by traveling to campus twice a week—using his car in these instances—to teach courses as the Donn E. Hancher Distinguished Fellow in the Division of Construction Engineering and Management.
Bowen organized the first ride in 2002, and the event has only been canceled once since then. His group of riders, which includes an ever-changing crew of family members, friends, and fellow cycling enthusiasts, has historically consisted of no more than five members. This year, Bowen's bikers will number 14.
For many years, each ride originated near downtown Indianapolis and covered nearly 65 miles. After shifting the starting point to Whitestown several years ago and then changing the route, the journey now covers approximately 50 miles. The ride has always ended in the shadow of Ross-Ade Stadium, and it has always been a one-way trip.
"Once we get to campus, we pack everything into a truck and take a shower. By then, everyone's ready for a beer," says Bowen, who will utilize an e-bicycle for the first time this year.
"Every year is a little different, and every year is special," he says. "I love the ride itself, with all the beautiful trails and streams, and I really love coming back to Purdue. I'm very proud of being from Purdue, and I feel honored every time I come to campus. I wouldn't be where I am today if I hadn't gone to Purdue. So, I want to be part of the program. I want to be on the team."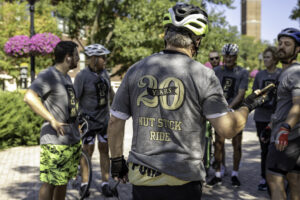 Bowen's unique bicycling tradition comes with an equally unique name—the nut stick ride—that has the most practical of origins.
The riders have stopped every year at the same location, Titus Bakery in Lebanon, for rest and nourishment. The bakery offers a treat called a nut stick—a long john topped with cashews, Brazil nuts, and almonds—that is such a group favorite the name of the pastry became the name of the outing itself.
"I think my son started calling it the nut stick ride after the second or third year, and then other people just started referring to it like, 'Hey, when's the nut stick ride?'" Bowen says. "The folks at the bakery know we're coming every year, and they're always glad to see us. It's going to be exciting when we order 12 or 14 nut sticks this year. I'm afraid they might run out, and I thought about ordering ahead, but my wife assures me they'll have plenty."
Bowen is the founder and former CEO of Bowen Engineering, where he remains as chair. The Indianapolis-based company specializes in municipal, utility, industrial, and environmental construction. Purdue presented Bowen with the Civil Engineering Alumni Achievement Award in 1995 and the Distinguished Engineering Alumni Award in 1999.
The Bowens have a long history of giving to Purdue, including a major contribution in 2002 that led to the construction of the Robert L. and Terry L. Bowen Laboratory for Large-Scale Civil Engineering Research. Through the Bowen Family Foundation, they also created the Bowen Scholars Program to support students at Purdue and throughout Indiana.
Terry, who serves as chair of the foundation, is a former chair of the Purdue Institute for Cancer Research Director's Advisory Board. Bob has served as a member of Purdue's Civil Engineering Advisory Council. The couple has been presented with the Outstanding Philanthropist Award by the Association of Fundraising Professionals, and they remain active as volunteers in Marion County.
"My opinion is that you have to give back, everybody has to give back if they can," Bowen says. "That's why we're here—to share our good fortune with as many people as possible and contribute to the success of everybody. It's part of life, and it's part of success. That's why I'm involved with Purdue, and that's why we do all our other work. I love it, and I'm going to keep at it until they carry me off."