A Fascination With Flight
Late donor's gift supports students in Aeronautics and Astronautics
"Shoot for the moon. Even if you miss, you'll land among the stars." Minister and author Norman Vincent Peale might have said these words, but Gregory Rein (T'83) lived them—every day of his life.
Born in 1961, Rein grew up during the space-race era. A native of Stoughton, Wisconsin, he loved watching the rocket launches, and, just before his eighth birthday, he watched men walk on the moon for the very first time.
Rein dreamed of flying—of soaring into the air just like those rockets. Those dreams became his reality when he earned his pilot's license at only 16 years old.
Like all high school students in the late '70s, Rein and his friends would go cruising on the weekend—they would just go in a plane instead of a car.
"Greg was a sweet person with a warm smile," says Mark Hazelbaker, Rein's close friend. "He always wanted to get along with others and enjoy life."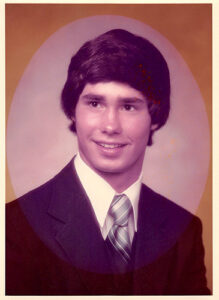 After high school graduation, Rein headed to Purdue to study aeronautical engineering. He did normal college student things—including pledging the TKE fraternity—but he also obtained his commercial pilot license and multiple certificates, allowing him to fly large commercial jets.
"Greg loved Purdue," Hazelbaker says. "He was proud that his studies there literally raised him into the skies."
Rein entered the aviation business as it was booming and joined Comair, a regional airline affiliated with Delta. He spent seven years with Comair, gaining experience and working toward a position with one of the major airlines. He was, quite literally, living the dream.
However, in 1990, Rein's dreams were grounded when he fell ill while flying. Rein ended up being diagnosed with bipolar disorder, which disqualified him from ever flying again.
"Back then," Hazelbaker says, "mental illness was something people were reluctant to talk about and fearful of admitting about themselves. He always hoped he could regain his flight certification, which led him to deny his illness and resist treatment. A more tolerant world might have found a place for him in aviation, even if he could not have piloted a plane again."
Through it all, Rein never lost his fascination with flight. He continued to follow major aviation and space developments, and "NASA" was printed on almost every license plate he had.
Unfortunately, he died of heart disease in August 2019.
Before his death, though, Rein had a discussion with his attorneys and caregivers about what he wanted to do with the wealth he had accumulated through his investments. Following his passions and accomplishing his own goals had brought him so much joy, so he decided he wanted Purdue students to have the same experience.
For that reason, Rein designated Purdue's School of Aeronautics and Astronautics to receive half of his trust.
"Before Mr. Rein's gift from his estate, we were only able to offer one four-year scholarship per year," says William Crossley, head of the School of Aeronautics and Astronautics (AAE). "Now, we have established the Gregory R. Rein Scholarship, a four-year scholarship that covers full tuition and fees for incoming students who indicate AAE as their first-choice academic program.
"Starting this year, we will be able to award three Gregory R. Rein Scholarships per year, every year, for the foreseeable future."
Rein flew above the clouds for so many years, but there is still one more flight for him to take. A portion of his remains will go into Earth's orbit during an upcoming lunar flight year. Those remains will land on the moon.
Greg Rein spent his life shooting for the moon—and he didn't miss.