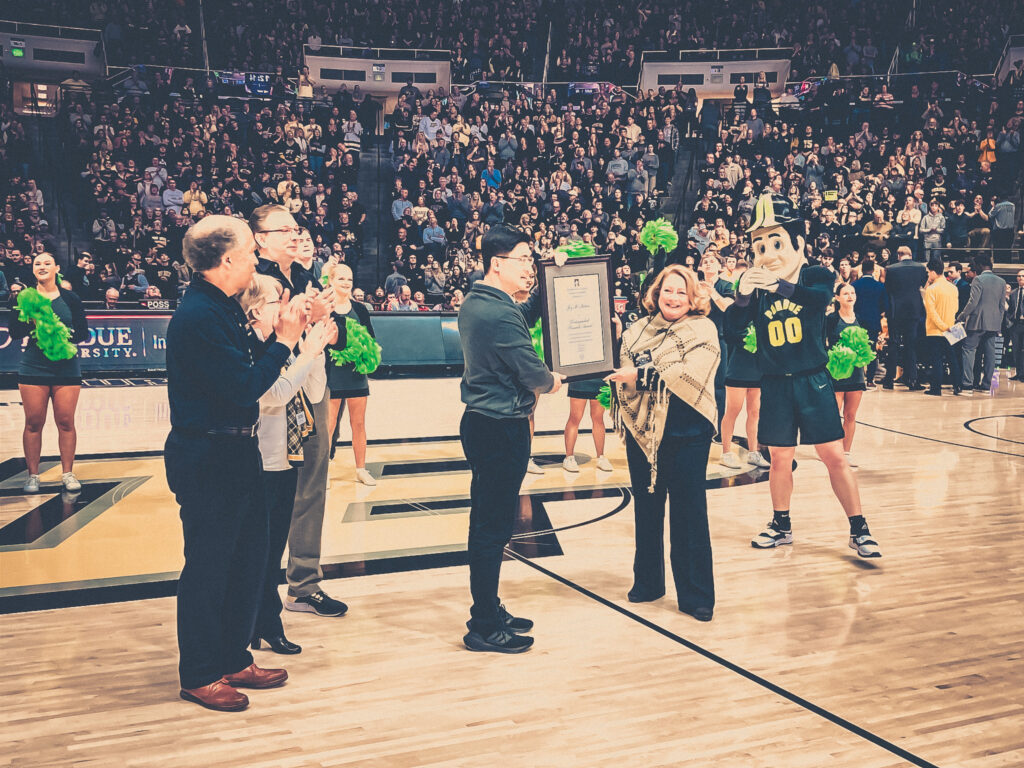 Joy Matson grew up in a 900-square-foot house in a small Illinois town of 90 people. Wearing hand-me-down clothes, Matson attended school in a three-room schoolhouse—her class was the largest with 12 students.
Her father was a custodian in a steel mill. Her mother worked as a teacher until Matson's older brother was hospitalized with a life-threatening illness; she then became a nurse's aide to be at the hospital with her son.
Matson's brother passed away when he was 10 years old. One week later, on Christmas Eve 1957, Joy was born—and she has been an example of her name to those around her ever since.
Matson is a recent recipient of the President's Council Distinguished Pinnacle Award, an honor reserved for those whose generous gifts of more than $1 million have made significant impacts on Purdue's students, faculty, programs, and initiatives.
"My parents paid my brother's medical bills for 25 years," Matson says. "They never filed for bankruptcy when they easily could have. Instead, they set up payment plans and made sacrifices for so many years. My family had nothing to give away, but they always had a strong sense of doing what's right. They are the drive behind why I give."
Matson would never call herself wealthy. "I'm just a worker ant," she laughs.
That work ethic was evident by the time she was in second grade, when Matson began delivering newspapers to the 36 houses in her town. She would always put some of her earnings in the offering plate at church first; the rest she would save for college and a horse. 
By the time she was in high school, Matson's parents were making just enough money to disqualify her from receiving financial aid in college. She attended the University of Illinois to take advantage of in-state tuition, enrolled in summer classes, and worked her entire college career.
After graduating with a science degree, Matson began working in pharmaceutical research at Baxter International in Illinois. When she was transferred to Indiana, she chose the West Lafayette area because of how much she enjoyed her Big Ten experience. And it didn't take long for her to fall in love with Purdue.
Now an award-winning mortgage specialist, Matson has been with Purdue Federal Credit Union for 18 years. Her first connection to Purdue came through the university's animal hospital. When Matson was 32, she finally bought the horse she had been saving for since second grade. A lover of all animals, she lives on a 10-acre farm, where she has rescued and adopted 14 animals, including cats, dogs, goats, alpacas, and her cow, Millie.
Matson's love of the animal hospital soon showed through her giving, as she became a dedicated donor
to the College of Veterinary Medicine—especially supporting its work in animal cancer research.
But it didn't stop there.
Throughout her 40-year career in real estate, Matson has met many university leaders and their families with whom she has formed enduring friendships. The more she learned about their programs, the more she believed in their work. Not only does she give to several areas around campus, but she's also a member of the advisory boards for Purdue Libraries and the Purdue Institute for Cancer Research.
One of the gifts Matson is most excited about is the scholarship she endowed through Purdue Libraries
in honor of her parents. Her support will provide need-based scholarships for undergraduate students pursuing a certificate from the Libraries and School of Information Studies.
"Joy is a lovely person, a woman of faith, a library friend, a rescuer of animals, and an incredible advocate for the university," says Beth McNeil, dean of Purdue Libraries. "She is a source of encouragement for faculty and staff and a support system for students and others in the community. We are so grateful for her willingness to share her time and her treasure with us because her impact will be felt For years to come."
"Regardless of the size of their donation, I believe that everyone can make a difference," Matson says. "Yes, I've given a lot to Purdue, but it was smaller gifts along the way—not all at one time. I'm really just a steward of God's money, and I'm trying to listen to him as he directs me on the best use of his money."