THE GEOLOGIC TIMESCALE FOUNDATION, an international non-profit established in 2009, strives to provide the global public and geoscience community with quick and free access to a wealth of information about our planet's past. Over the past decade, nearly half of the Foundation's annual funding has been designated for Purdue. This has most likely been influenced by retired Department of Earth, Atmospheric, and Planetary Sciences Professor James Ogg and his wife, Dr. Gabi Ogg. Both are foundation board members, along with the current chair, Dr. Brian Huber of the Smithsonian Institution. The foundation was conceptualized by the International Commission on Stratigraphy, which is composed of over 130 countries and is the largest and oldest constituent scientific body in the International Union of Geological Sciences.
Donations supporting the Foundation's work are mainly received from geological surveys including Australia, Canada, Britain, and Columbia, geological corporations such as Exxon-Mobil, Equinor, and Shell Global, and other geoscience-related organizations. The Foundation helps to publish books on Earth's geologic history, prepare and freely distribute geologic time-scale charts and cards for schools, host free software for exploring Earth's history, give travel support to students to conferences, and provide research-oriented fellowships to students in geoscience and computer-science students who assist in developing that free software.
Within the past year, the Foundation made two grants to Professor James Krogmeier's research in the Department of Computer Engineering to support the "Earth History Visualization" undergraduate research team.  That student group has collaborated with graduate and post-doctoral students in Australia, China, and India to make a cutting-edge user-friendly database and graphic display that demonstrates regional geologic history on the ancient geography of the Earth's surface.  For their work, the undergrad team received the Share with the World research award from the College of Engineering's Vertical Integrated Projects this past April.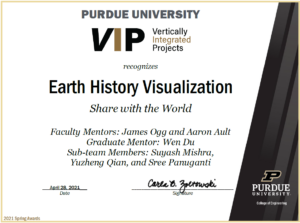 Other foundation donations to support Purdue research and fellowships have accomplished similar "magic" by enabling people to view Earth's history from a combination of databases and software.  Ogg believes that "Purdue is unique in having these joint computer and geoscience collaborations among undergrad and graduate students—and the resulting emphasis on big data mining."  Many of these supported students have gone on to join successful companies including Google, Facebook, Cisco, and more.
Professor Ogg's excitement surrounding the adventure of geology and our planet's past is palpable when he speaks. His passion is sparked by what we know—but even more so by what we don't know. A scientific traveler and teacher, much of his life has been devoted to research and then sharing it. We are fortunate to have his expertise making a difference on campus and beyond.
Jim and Gabi can often be found working into the wee hours of the morning from their West Lafayette home. For more information on the Geologic TimeScale Foundation or the research it supports, please visit https://timescalefoundation.org/index.html or email Professor Ogg at jogg@purdue.edu.  //

Writer: Andrea Marfell, Donor Relations Communications akmarfell@purdueforlife.org