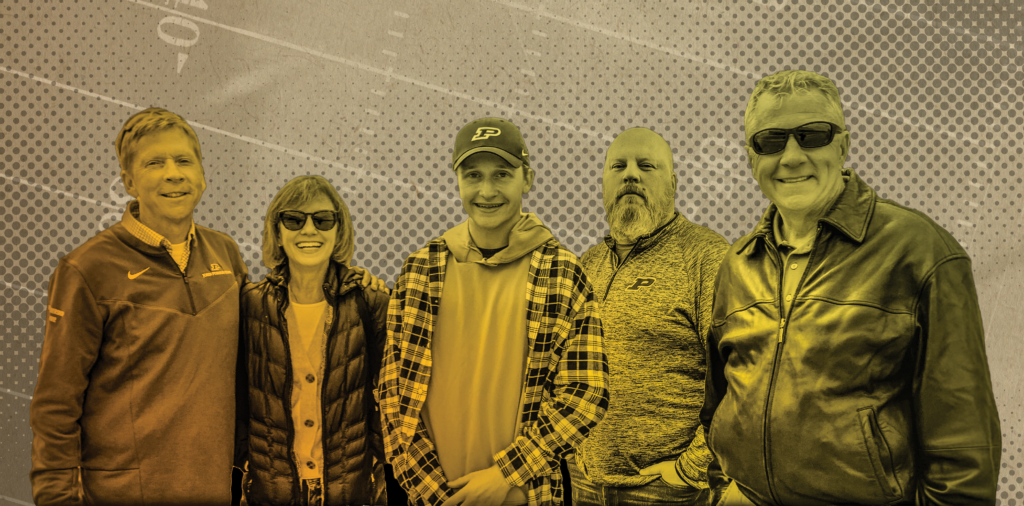 When the Purdue Boilermakers pulled off an upset against the No. 5 Notre Dame Fighting Irish on September 22, 1979, hundreds of students rushed the Ross-Ade Stadium field.
Watching from the stands was a high school student from Dayton, Ohio. At that moment, Robert "Bob" Swortzel (ECE'85) told himself, "I'm coming here!" He would later attend Purdue University, where he studied engineering and prepared to become a U.S. Air Force pilot.
The result of his decision was an extraordinary legacy. His brothers, Rich (ECE'87) and Tim (T'96), and many friends followed him to Purdue thereafter. His nephew Michael enrolled in 2021.
Only 18 months older, Bob was Rich's best friend. Like many brothers, they were highly competitive, but it was also evident to everyone how close they were.
"I came to Purdue because it was the best place for me—plus my brother was there, too," Rich says. "I thought I wanted to be an Air Force engineer like my dad. However, I chose a different path and studied electrical engineering and worked at General Motors through a co-op program.
"A few years after graduation, I was able to move into technical sales and use my God-given gifts. I got the entrepreneur 'itch' and later connected with another Purdue alum in Columbus, Indiana, to create a state-of-the-art software tool."
While the brothers chose different career paths, their love of Boilermaker athletics always brought them back together—either in front of a television or somewhere in the stands. In fact, one of the last pictures of the two of them together was at a Purdue football game.
Bob passed away in a tragic airplane accident in November 2021. To honor him and support the school their family loves, Rich and his wife, Mickey, decided to make a unique gift to the university.
Once the Ross-Ade renovation is complete, the Swortzel Family Gate will stand proudly on the north end of the stadium, representing the world of opportunities that opened for the family—and so many other Boilermakers—because Bob decided upon Purdue first.
"When our son, Michael, chose Purdue, we saw the university through new eyes," says Mickey. "Seeing Purdue had stayed true to its values while accelerating opportunities for students made us excited. This gift allows us to celebrate what Purdue has meant to our family: a place to pursue our faith, meet lifelong friends, and learn skills for successful personal and professional growth."
"Purdue enabled my brothers and I to do incredible things in our professional careers and helped lead us to where we are in our personal lives," Rich says. "Bob led us here, but Purdue allowed us to dream. Now it is our turn—our responsibility—to encourage future students to follow their dreams."