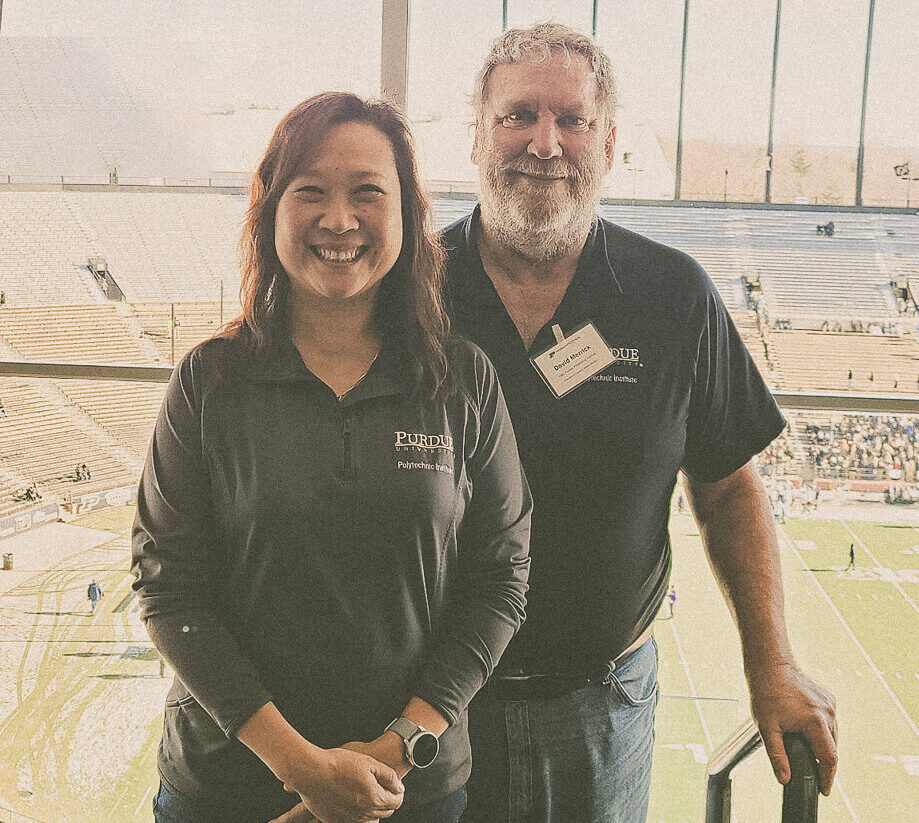 David Merrick (AAS'82, T'83) and April Cheung (AAS'95, T'96, MS T'04), a Purdue assistant professor, have a long history of giving back to their community, including volunteer work with the American Red Cross. In his free time, Merrick builds houses with Habitat for Humanity and gives children free airplane rides through the Young Eagles flight program. And for over 15 years, Cheung has contributed time to ABET, a nonprofit accreditation agency in higher education, by evaluating around 100 academic programs in the United States and other countries—something that fueled her passion for teaching. She is also a volunteer for the Institute of Electrical and Electronics Engineers.  
The Purdue Polytechnic Institute alumni have supported their alma mater by establishing a will provision to create scholarships supporting international students in the School of Engineering Technology. "We both received a lot of goodwill when we were here, so we wanted to do the same for others," Cheung says.
After obtaining his degree in mechanical engineering technology, Merrick worked as a research and development engineer at Indiana Mills and Manufacturing (IMMI), a company that specializes in advanced safety systems for commercial vehicles. While there, he was awarded 25 patents for various inventions related to seat-belt systems. After IMMI, Merrick worked at Shield Restraint Systems for five years as an engineering team lead and received seven patents during his employment. He was honored with the SAE Henry Ford II Distinguished Award for Excellence in Auto-motive Engineering in 2009 and the Outstanding Technology Alumni Award from the Purdue Polytechnic Institute in 2013. Now retired, Merrick serves as a mentor for students who are working on their final projects in Polytechnic's capstone program.
Cheung has used her electrical engineering technology degree throughout an impressive career. She has programmed detention-center control systems, created driver-assistance systems in Class 8 trucks, and developed wheelchair-accessible vehicle lifts. Now an assistant professor of practice for the electrical engineering technology program in the School of Engineering Technology, she helps prepare students to solve tomorrow's challenges.
Merrick and Cheung met in 1998 and married a few years later. They both enjoy technical topics and have worked together several times throughout their careers. "Before I met April, I was the technology expert in my family," Merrick shares. "Soon after April and I started dating, I got a call from my parents. They had some computer issues, and their manure spreader was broken. They wanted me to bring April to fix their computer and asked me to fix the manure spreader."
Originally from Hong Kong, Cheung wanted to establish a scholarship that would help international students pursue a Purdue education. "I think it's sometimes harder for international students to access funds," she says. "I have seen a lot of students experience so much stress—we don't want them to worry about money on top of their course loads."
"We want to make a difference for individual students," Merrick adds. "And we hope the students who benefit from our gift will be inspired to give back and help those who come after them."