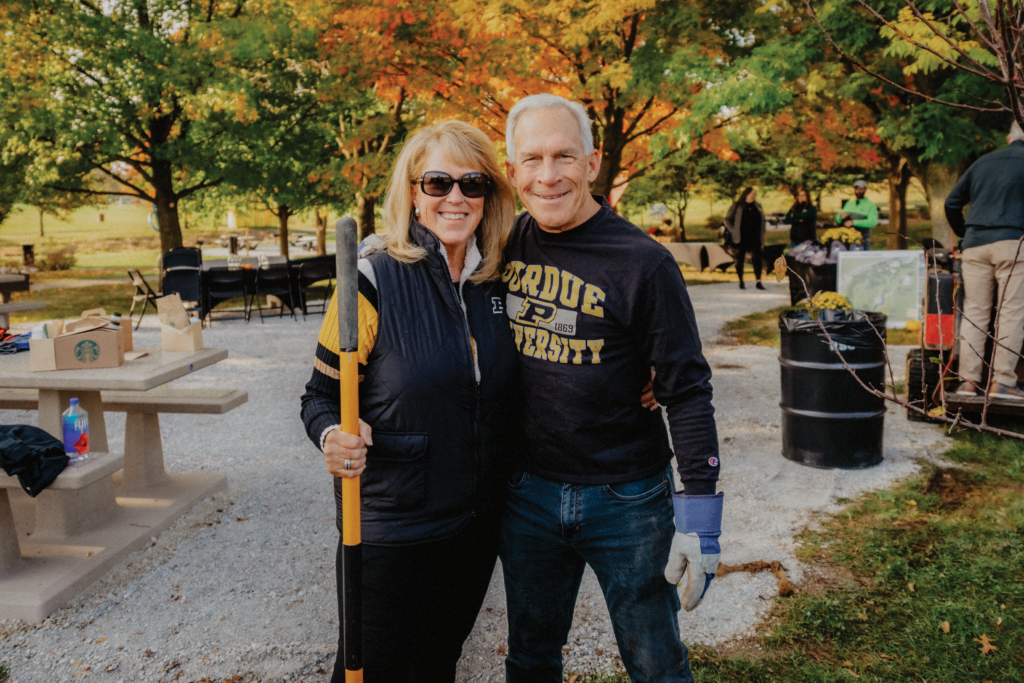 Lush trees, eye-catching sculptures, welcoming tables and benches, and serene surroundings have made Pickett Memorial Park the perfect campus escape since 1971. Now, by capitalizing on the park's proximity to the Intramural Gold Playing Fields, the university will further its focus on student health and wellness.
Growing up in West Lafayette, Martin Pickett (M'75) knew his way around Purdue, where his father, Robert, worked for 25 years. Martin used to sell sodas in Lambert Fieldhouse during home basketball games; he also worked out in the all-new Purdue University Arena (later named Mackey Arena) while attending high school in the 1960s. The youngest of four children, he followed in the footsteps of his siblings—Janet (E'69), Paula (LA'73, MS E'75), and Dean—by becoming a Boilermaker.
"Since I was 2, all I've known is Purdue," Martin says.
Following Dean's death in a 1969 hiking accident in Yosemite, Martin's parents established Pickett Park as a memorial to their older son. More than 50 years later, it remains a treasured family priority.
"My wife, Jan, and I decided to adopt the park several years ago by creating both a fund to fix it up and an endowment to support it in the longer term," Martin says. "We want to give back in a tangible way, and we're in a season to do so. Both of my sisters are Purdue grads who also love Pickett Park."
Martin and Jan met at Purdue as freshmen, married their senior year, and have a love for Purdue that inspires their continued involvement. Last fall, they joined 16 of Martin's Phi Gamma Delta (Fiji) fraternity brothers and their spouses to create Friendship Grove in Pickett Park. The group purchased benches, a picnic table, and several trees, including a mighty oak planted in honor of Mitch Daniels—a fellow Fiji who, at the time, was completing his tenure as Purdue's president.
The Picketts are now working with the university on a Recreation and Wellness Outdoor Master Plan. College students today spend considerable time indoors studying and staring at computer screens. By incorporating Pickett Park with the adjacent intramural fields, Purdue will provide more opportunities for students to venture outdoors, enjoy fresh air, and exercise.
"If we integrate the park and intramural fields in a strategic way, this area can become the Central Park of Purdue," says Martin. "Our encouragement to Purdue is to look bigger than just Pickett Park—to look at Purdue's recreation and think of this area as a central place anyone can walk to and enjoy."
By adding a large amount of turf space, the university will create more reliable, usable playing surfaces for intramural and club sports. Other amenities discussed include lighting, running and biking paths, pickleball courts, sand volleyball courts, an outdoor exercise area, bridges connecting the park and fields, and an amphitheater.
"These improvements are very much in line with the vision the Pickett family has to create spaces that can be discovered and used by students," says Bob Shriner, chief development officer for student life. "Since the two areas directly border one another, it makes sense to champion improvements to each one, especially as the Provenance neighborhood continues to grow and more residents live in close proximity to these spaces."
"Pickett Park is a family legacy," Martin says. "Our vision and hope is that it will be an enriching part of the Purdue student experience and will contribute to the mental, physical, and spiritual health of students."