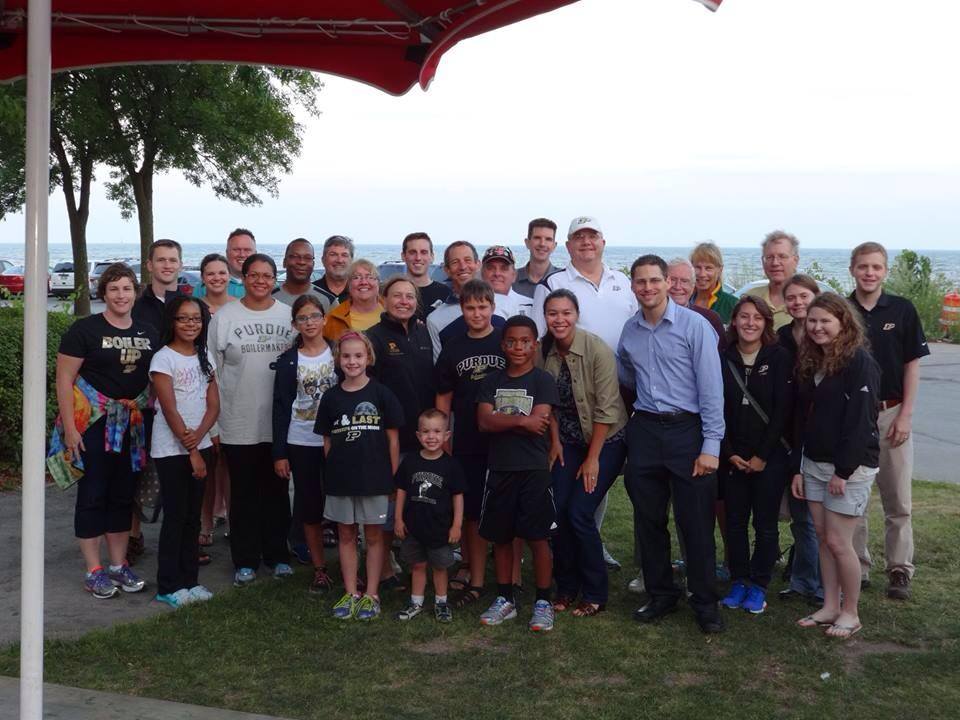 Welcome
The Purdue Club of Milwaukee and Southeast Wisconsin consists of alumni and friends of Purdue University. We gather during the year to enjoy sharing memories and making new ones with fellow Purdue supporters. Dinners, tailgates, football games and more are on the schedule for the coming year. Join us!
Scholarship
Since October 2005, the Purdue Club of Milwaukee holds a permanent scholarship fund on account through the Purdue Foundation. This funding arrangement assists in administering the scholarship program and furthers the long-range goals of the Club. A minimum committed balance is kept in the fund permanently, and annual scholarship awards are intended to be dispensed from the fund commensurate with fiscal year fundraising and donation activities.
Donations to the fund are considered tax-deductible within the guidelines of the IRS, and company gift-matching programs will generally apply as well.
Company gift-matching forms, if applicable, should accompany the check in accordance with the published company policies.
Any contributions are greatly appreciated!
---
Club Scholarships Available
The Purdue Club of Milwaukee will contact eligible (minimum 3.0 GPA required) returning students each winter to apply for one of the available scholarships for the Fall semester. Invitations will be mailed on or about February 1 for those returning students who reside in southeastern Wisconsin. Incoming freshmen are also eligible to apply for the upcoming year awards.
The following scholarships will be awarded:
One Donald D. Counsell Scholarship for $1,250
Six scholarships under the David P. Hullinger Memorial Scholarship Program will be awarded

One scholarship for $1000
Two scholarships for $750 each
Three scholarships for $500 each
Invitations to apply include an application form that contains basic eligibility criteria as well as the opportunity to respond in essay form about scholastic and extracurricular activities. Both returning students and incoming freshmen are to utilize the same application form.
Applications are due by March 1 and will be awarded on or before May 1 for the following academic year.
We hope to hear from you soon! Hail Purdue!
For more information about our scholarship program, please contact Allen Gillette at adgillette@att.net or 262-971-0165.
Purdue Foundation Account
An important objective of the Foundation Scholarship Account is to provide financial awards to deserving students while at the same time growing the residual balances for future funding. With your help, the Purdue Club of Milwaukee has achieved the short-term objective and is making great progress toward the long-term component.
With the creation and administration of the permanent Purdue Foundation account, all contributions are tax-deductible and company-matching programs will generally apply. Please check with your employer for details about company match.
Donate to our scholarship fund today!
To make an online donation, click here.
Via check made out to the Purdue Foundation and mailed to:
Joni Hodor
Interim Treasurer, Purdue Club of Milwaukee
156 E Henry Clay St.
Whitefish Bay, WI 53217
In the memo of the check, please enter "Scholarship Fund, Purdue Club of Milwaukee Account 62010144." A receipt will be mailed from the Foundation to the name and address listed on the check. Company gift-matching forms, if applicable, should accompany the check in accordance with the published company policies.
To learn more about other ways to give to our scholarship visit Purdue for Life Foundation's Ways to Give.
Contact Us
Joni Hodor
purduemilwaukee@gmail.com
Purdue for Life Foundation
alumniclubs@purdueforlife.org
Social Media