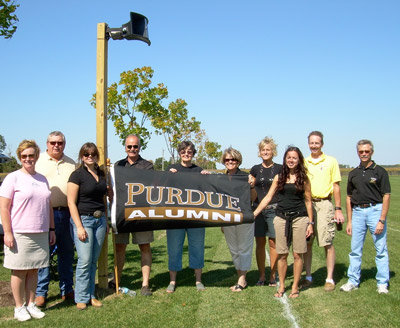 Welcome
The Purdue Club of Boone County provides fellowship for Purdue Alumni and Fans in Boone County, Indiana, as well as scholarships for local high school students. Everyone welcome!
Newsletters
Would you like to receive our e-mail newsletter?
Send your name and email address to Kevin Morrissey, Purdue Club of Boone County webmaster/newsletter editor.
Photos
Scholarship
The Purdue Club of Boone County Scholarship is awarded to a Boone County high school senior who will be attending Purdue University. (See below for the 2016 scholarship recipients.)
One scholarship is given to a senior at each of the public high schools (Lebanon, Western Boone and Zionsville) located in Boone County. Upon winning the scholarship, the student must provide to the Purdue Club of Boone County a letter of acceptance to attend Purdue as well as provide a copy of their Purdue student identification. The factors in awarding the scholarship are (in no particular order):
Academic Achievement
Activities and School Involvement
Community Involvement
Financial Need
Purdue Commitment
Questions? Please contact Jane Hammock.
---
2016 Recipients
Lebanon High School – John Plunkett
Western Boone High School – Madison Bright
Zionsville Community High School – James Sullivan
2015 Recipients
Lebanon High School – Charlotte Skillington
Western Boone High School – Emma Mendez
Zionsville Community High School – Erin Paul
2014 Recipients
Lebanon High School – Noah Molter
Western Boone High School -Tyler Hale
Zionsville Community High School – Benjamin Walters
2013 Recipients
Lebanon High School – Luke Everett
Western Boone High School – Jenna Lammott
Zionsville Community High School – Connor Thimjon
2012 Recipients
Lebanon High School – Allison Kraft
Western Boone High School – Michael McCormick
Zionsville Community High School – Courtney Rolland
2011 Recipients
Lebanon High School – Jacob Shapiro
Western Boone High School – Drew Price
Zionsville Community High School – Connor Stehr
2010 Recipients
Lebanon High School – Matthew Day
Western Boone County High School – Andrew Adams
Zionsville Community High School – Caitlyn Alvar
2009 Recipients
Lebanon High School – Kathryn Lennox
Western Boone County High School – Adam Hayden
Zionsville Community High School – Ann Alvar
2008 Recipients
Lebanon High School – Jessica Kendall
Western Boone County High School – Danielle Alete Crabtree
Zionsville Community High School – Katie Conrad
2007 Recipients
Lebanon High School – Chase Barnett
Western Boone County High School – Kassi Poole
Zionsville Community High School – Kristin Shrack
2006 Recipients
Lebanon High School – Lindsay Richardson
Western Boone County High School – Katy Kindig
Zionsville Community High School – Michelle Boyle
2005 Recipients
Lebanon High School – Monica Willhoite
Western Boone County High School – Amanda McKenzie
Zionsville Community High School – Lindsey Gangstad
2004 Recipients
Lebanon High School – Tasha Searles
Western Boone County High School – Laura Hill
Zionsville Community High School – Victor Gootee
Contact Us
Kevin Morrissey
kevinmorrissey4@icloud.com
317-503-8109
Purdue for Life Foundationalumniclubs@purdueforlife.org
Social Media