A resource guide for club leaders
Download the latest version of the Handbook (PDF)
Introduction
Welcome to the Purdue Alumni Association Club Leaders Handbook, a compendium of important information and resources designed to help you run a successful club that benefits its members and the University. This handbook outlines the club recognition program, tips on successful events and meetings, financial information, and programming ideas. It also includes several appendices containing policies, sample documents, and legal requirements. Assuming a leadership position at a local level is a critical role in the Purdue Alumni regional club network. You are an integral part of the Purdue Alumni Association. Your leadership directly impacts the effectiveness of your club, drives the enthusiasm of your members, and contributes to the overall success of Purdue Alumni's mission. We are dedicated to providing the tools necessary for you to be successful. This handbook is a useful guide to help you do that. If you have any questions, we are available to answer them as well as provide any assistance we can to help you run the best club in the Purdue network. HAIL PURDUE! Purdue Alumni Outreach Team
Statement of Integrity
PURDUE ALUMNI ASSOCIATION SUPPORTS THE FOLLOWING PURDUE UNIVERSITY STATEMENT:
At Purdue, integrity is indispensable to our mission. We act with honesty and adhere to the highest standards of moral and ethical values and principles through our personal and professional behavior. We demonstrate our understanding of these values and principles and uphold them in every action and decision. Trust and trustworthiness go hand in hand with how we conduct ourselves, as we sustain a culture that is based upon ethical conduct. We expect our actions to be consistent with our words, and our words to be consistent with our intentions. We accept our responsibilities, share leadership in a democratic spirit, and subject ourselves to the highest standards of public trust. We hold ourselves accountable for our words and our actions.
We champion freedom of expression. To ensure our integrity, we safeguard academic freedom, open inquiry, and debate in the best interests of education, enrichment, and our personal and professional development. We embrace human and intellectual diversity and inclusiveness. We uphold the highest standards of fairness, act as responsible citizens, respect equality and the rights of others, and treat all individuals with dignity.
To fulfill our goals as a learning community, we insist that the objectives of student learning are not compromised. We treat all students equitably, and our evaluations of learning achievements are impartial based on demonstrated academic performance. As students, we understand that learning is the most important goal and we embrace ethical values and principles, and reject academic dishonesty in all our learning endeavors. In the realm of new discoveries, we place the highest value upon truth and accuracy. We acknowledge the contributions of others. We place a higher value on expanding and sharing knowledge than on recognition or ownership.
We work diligently drawing from the strong work ethic of our state of Indiana and are committed to always acting in the best interests of the University. We pledge to make wise use of our resources and to be good stewards of financial, capital, and human resources. We operate within the letter and spirit of the law and prescribed policies, and strive to avoid impropriety or conflict of interest.
As members of the Purdue community, we demonstrate unyielding and uncompromised integrity in support of the highest standards of excellence for the University. As individuals, we all contribute to this Purdue standard of integrity as an exemplary model for all universities.
Volunteer Conduct and Expectations
Volunteers are a critical part of the Purdue community. Participation in alumni clubs, networks, service projects, or any other alumni event requires individuals to act with integrity and respect for others. All alumni share a responsibility for Purdue's public relations — especially at the community level. Readiness to help with charitable, educational, and civic activities brings credit to Purdue's reputation.
As a volunteer (or club/network participant), I agree to support the mission of the Purdue Alumni Association and to contribute to a collegial, positive, and inclusive environment that does not discriminate on any basis.
Communications
All correspondence is a reflection of the Purdue Alumni Association. Volunteers serving in leadership capacity with any Purdue Alumni Association club/network must make every effort to respond promptly and courteously to all proper requests for information and complaints.
All communications, written or otherwise, shall be conducted in a respectful manner. Inappropriate communication by email or in any public forum about Purdue Alumni Association, its volunteers, staff, stakeholders or any fellow alumni will not be tolerated.
Privacy and Confidentiality
When handling financial and personal information about alumni, participants in alumni activities, or others with whom the Purdue Alumni Association has dealings, observe the following principles:
Collect, use, and retain only the personal information necessary for the alumni club/ network business
Retain information only for as long as necessary or as required by law
Protect the physical security of this information
Use only personal information for the purposes for which it was originally obtained
Under no circumstances share or sell information obtained through a club/network or volunteer activity
Violations of Code of Conduct
Elected officers of any club/network will resolve issues in a professional and respectful manner. Volunteers or participants in club/network activities may be asked to leave an event or other public forum if their conduct is outside the expectations outlined in this document, and may be precluded from participation in the future.
Club Program
Purpose of Sanctioning Clubs
To encourage diversity in programming, the current club program was implemented with expectations and clearly defined criteria for success. Our objective is to engage alumni, personally, professionally, intellectually to increase their connection to Purdue and each other.
Each year, groups must meet specific criteria in order to be sanctioned by the association. These requirements must be completed between July 1 and June 30, in alignment with the University's fiscal year. The group's Purdue Alumni staff liaison, with the group's assistance, will keep track of activity throughout the year. After June 30, club status is granted to those groups completing the requirements detailed below.
All sanctioned clubs must complete the annual requirements, plus organize a total of five events with at least one event in a programming category other than personal. All sanctioned clubs will receive the support provided by Purdue Alumni listed on pages 8–9.
Annual Requirements
To coordinate with the Purdue Alumni Association and to comply with University guidelines and federal law, there are several steps we require clubs to take. These are not meant to be onerous or time-consuming. Many of them will help us monitor all club engagement efforts and share best practices among clubs.
Below is a list of the requirements for all clubs. Some of them are one-time activities, while others are annual necessities.
SUBMIT WRITTEN CLUB AGREEMENT (Appendix A) not to collect club dues, annual activity fees, etc. going forward. Collecting individual club dues, annual activity fees, etc. directly conflicts with the goal of increasing Purdue Alumni membership, which specifically supports our clubs.
SUBMIT WRITTEN CLUB AGREEMENT (Appendix A) to adopt Purdue Alumni club online scholarship application and awarding timeline (only for clubs that maintain scholarship funds at Purdue University and select their own recipients). March 1 is the application deadline for students. April 15 is the awarding deadline for clubs. Purdue Alumni will provide the online scholarship URL for distribution and promotion in December.
SUBMIT DISCLOSURE AGREEMENT FOR STUDENT ADDRESSES (Appendix C).
SUBMIT PURDUE ALUMNI–APPROVED CLUB BYLAWS/CONSTITUTION (in years changes made).
INCORPORATE MEMBER/NONMEMBER PRICING for all fee-based events and follow pricing guidelines listed in Appendix G.
MAINTAIN A CLUB WEB PRESENCE with a community in the Purdue Alumni Portal, and/or Facebook page. Promote all club events on these sites and respond to inquiries posted within two business days.
PARTICIPATE IN ALL CAMPAIGNS organized by the Purdue Alumni Association. This could include, but is not limited to, membership campaigns, promoting Purdue Alumni initiatives via social media, and scholarship fundraising efforts like Purdue Day of Giving.
SUBMIT ROSTER OF CLUB OFFICERS. All must be Purdue Alumni members at the PLUS tier or higher.
SUBMIT A POST-EVENT INFORMATION FORM AND ATTENDEE LIST no later than one month after the event date. If your club has earned dues sharing, fill out the dues-sharing request portion of the form. Forms submitted more than one month past event date will not count as a qualified activity for the club recognition program or be eligible for dues sharing reimbursement. Submitting event information in a timely manner helps Purdue Alumni recognize and track overall monthly engagement. In addition, it builds an events library of ideas and best practices for all clubs to use and share.
Membership
The Purdue Alumni Association is a membership-based organization. We seek to develop and embrace emotional connections as a tool to encourage membership, while delivering value to our constituents through our membership program. Alumni club leaders are the greatest ambassadors that we have. It is paramount that we cultivate and grow a culture that understands that a strong financial stewardship program is key to our long-term success. Thus, alumni clubs play a significant role in promoting the value of membership to alumni in their respective areas and will be counted on to participate in membership campaigns organized by the Purdue Alumni Association.
Relationships
Relationships are at the very core of what we do. Our alumni clubs are an important part of the Purdue Alumni outreach and engagement team. Events should appeal to a wide variety of alumni interests. Our ultimate goal is to create exceptional experiences for our constituents by incorporating a high level of planning prior to events and engaging in critical self-evaluation after events. Clubs will be asked to plan virtual or in-person events, incorporating member/nonmember pricing, in the following engagement programming categories:
PERSONAL (e.g., social events, family-friendly events, game watches)
PROFESSIONAL (e.g., networking events, mentorship program, dinners)
INTELLECTUAL (e.g., special interest events, arts, lifelong learning, diversity events)
SCHOLARSHIPS/STUDENT RECRUITMENT (e.g., scholarship fundraiser, student recruitment/PART program, student retention, student send-off)
SERVICE (e.g., volunteerism)
The number and types of programming ideas for clubs are as diverse and varied as the clubs themselves. We encourage you to contact other club leaders for suggestions and ideas on how to get local alumni involved and connected with Purdue.
Submitting your event information, including attendee lists, to us in a timely manner after your event will help us to better understand and track overall monthly engagement, as well as help build an events library to share with other clubs in an effort to communicate best practices.
Club Recognition
There are three tiers of recognition for clubs — Gold, Silver, and Bronze — based on the number of qualified events planned for the fiscal year (July 1– June 30).
Sanctioned clubs that meet the annual requirements will be awarded their Gold, Silver, or Bronze status at the annual Alumni Leaders Conference. After a year at Gold status, a club will receive a flag, personalized with the club name and the Purdue Alumni logo. Each year, any club that achieves Gold, Silver, or Bronze status will receive a "P" in the respective color each time they achieve this level.
Gold, Silver, & Bronze Award Requirements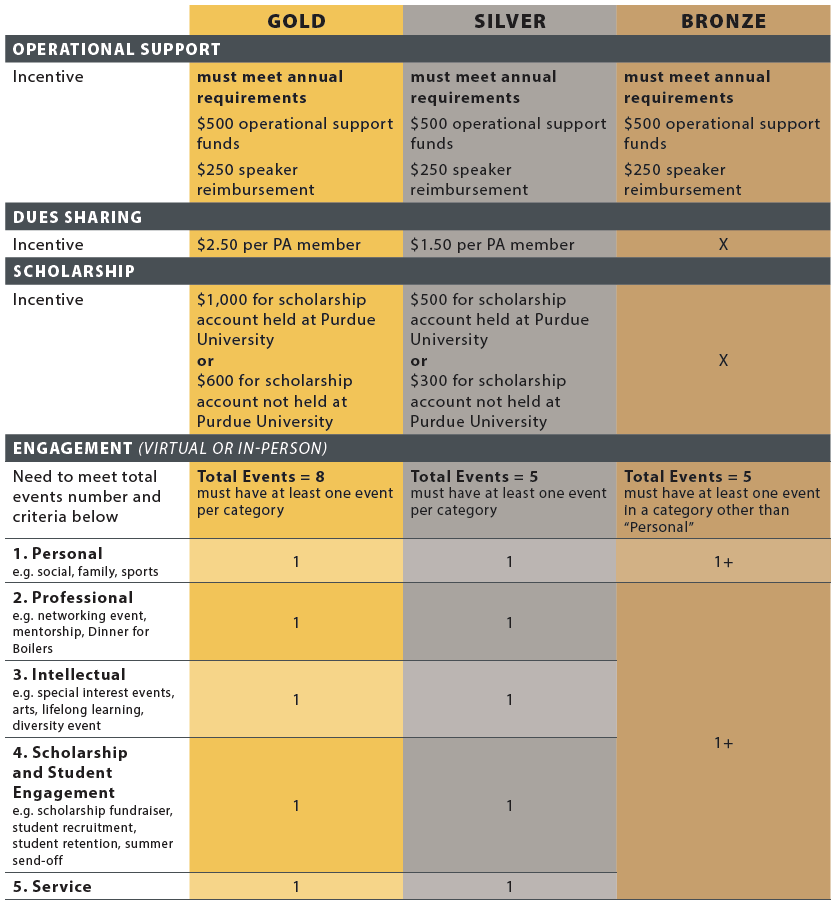 Dues Sharing & Scholarship Donations for Gold & Silver Clubs
Purdue Alumni offers the following support for sanctioned alumni clubs that earn Gold or Silver status for each fiscal year:
Dues Sharing
Each Gold club will receive $2.50 per Purdue Alumni member in their club area for programming purposes. Each Silver club will receive $1.50 per Purdue Alumni member in their club area. These funds are for programming purposes and are distributed as reimbursement for qualified expenses. Please refer to the Payment Request Form for dues-sharing procedures, as well as qualified expenses. See Appendix A and Appendix F for details.
Scholarship Donations
Each Gold club will receive a $600–$1,000 scholarship donation. Each Silver club will receive a $300–$500 scholarship donation. These funds are for scholarship programs and the amounts each Gold or Silver club receives depend on whether a club's scholarship account is held at Purdue University or elsewhere.
Support for Sanctioned Alumni Clubs
Sanctioned Purdue alumni clubs are an essential part of Purdue Alumni's mission. These groups keep people connected to each other and the University. Purdue Alumni offers sanctioned clubs operational support, provided that they meet our annual requirements.
OPERATIONAL SUPPORT FUNDS A $500 check will be provided at beginning of fiscal year if the club has a bank account in the club's name. Otherwise, $500 will be available on a reimbursement basis using the payment request form. In addition, a $250 speaker reimbursement will be available to each club during each fiscal year. See Appendix A and Appendix F for details.
STAFF LIAISON A professional staff member is assigned to work with each club.
ONLINE SERVICES A variety of services are available to support your club, including the Purdue Alumni Portal, club website hosting, email forwarding, events calendar on the Purdue Alumni website, and promotion on social media.
CLUB PROMOTION Club activities can be listed on the Purdue Alumni events calendar, mass emails, and Purdue Alumni media channels.
EVENT BOX Sent for social events or other designated events; includes name tags, brochures, pencils, Block P lapel pins, pom-poms, static clings, etc.
SCHOLARSHIP PROGRAM A staff liaison will assist with the scholarship process and serve as administrator between the club and the Division of Financial Aid. Purdue Alumni will also provide student email addresses to clubs to communicate club scholarship opportunities.
STUDENT RECRUITMENT Purdue Alumni will provide email addresses of prospective students to clubs to communicate scholarship opportunities and a link to the PART program, which includes materials for college fairs. For this program, Purdue Alumni staff will serve as liaison between the club and Admissions. See Appendix C for Disclosure Agreement for Student Addresses.
TAX IDENTIFICATION NUMBER Purdue Alumni will obtain a tax identification number so clubs can open a checking account, if requested.
ALUMNI LEADERS CONFERENCE (ALC) Free annual training conference held virtually every summer for alumni leaders and volunteers. For more information, visit https://www.purdueforlife.org/alumni-leaders/alumni-leaders-conference/.
CLUB HANDBOOK Online reference manual for club leaders.
LIABILITY INSURANCE Coverage available to clubs at no cost. Exceptions may apply if a club has incorporated themselves.
SPEAKERS When feasible and applicable, speakers can be provided for club events. The club is responsible for any speaker fees, as well as travel and accommodation expenses. If eligible, the club may use their speaker reimbursement funds.
GOLF Purdue Alumni's team will assist in promoting your golf outing and provide golf-specific giveaways for each participant. Purdue Alumni will secure participation of and provide transportation for invited guests, when feasible and applicable.
PURDUE ALUMNI CLUB AWARDS Boilermaker Pride Award and Club Recognition Awards
Sanctioned Club Websites
Purdue Alumni provides sanctioned clubs their own web page. All club pages maintain a common Purdue Alumni brand template. Information includes club bio, scholarship information, upcoming events, club contact information.
Purdue Alumni will oversee requested changes. To request a change, email web@purdueforlife.org.
Alumni Portal
The Purdue Alumni Portal provides the following user benefits:
Peer-to-peer networking
Mentorship connections
Job board
Events information
Each club has its own community page in the Purdue Alumni portal to connect alumni within your area. We recommend that your club designate someone to oversee administration of your community page, which includes promoting all club events and responding to posts within two business days. Both page maintenance items are requirements for maintaining status as a sanctioned club. We also encourage all alumni club volunteer leaders to create their own personal profile in the portal to help contribute to the robust digital network we strive to build.
Purdue Alumni Club Scholarship Program
Purdue Alumni encourages clubs to maintain their scholarship account at Purdue University for the following reasons:
Donations can be made online at giving.purdue.edu.
Helps ensure that controls are in place for proper handling of club funds.
Donors receive recognition in the Purdue University gift-reporting system.
An individual's donation is eligible for a federal tax deduction and an Indiana tax credit if it is made directly to the scholarship or endowment fund.
Endowed accounts have a greater opportunity for growth.
The Purdue Alumni Association provides $1,000 to use for scholarship distribution to Gold Status clubs that have a scholarship account at the University. The alumni association provides $500 for scholarship distribution to Silver Status clubs with a scholarship account at the University.
What types of scholarships are available?
ALUMNI CLUB SCHOLARSHIP ACCOUNTS are available to clubs that expect to raise and award more than $1,000 annually, or wish to be accumulating funds to establish an endowed scholarship. Clubs determine whether to have the Division of Financial Aid (DFA) or the club select recipients.
ENDOWMENT ACCOUNTS are available for clubs with a minimum deposit of $25,000 (scheduled to change after 12/31/20). The University invests the money from endowment funds and income is distributed every on May 1 and November 1 based on the endowment amount on March 31 and September 30 and the University endowment policy. Endowment accounts have the potential to grow over time while providing funds to award scholarships.
THE PURDUE ALUMNI CLUBS SCHOLARSHIP is a general fund administered by the Purdue Alumni Association. Clubs that do not expect to raise and award at least $500 annually are encouraged to give to this fund instead of establishing their own scholarship fund. The DFA selects recipients.
How are club contributions made?
Please make checks payable to the Purdue Research Foundation and mail them to the attention of your regional liaison at the Purdue Alumni Association.
DICK AND SANDY DAUCH ALUMNI CENTER ATTN: (Regional Liaison Name) 403 West Wood Street West Lafayette, IN 47907-2007
Alumni clubs can make contributions to their scholarship or endowment fund. Donations can also be made at giving.purdue.edu.
Are scholarship contributions tax deductible?
If an individual donor writes a check or makes an online donation to Purdue Research Foundation (PRF), the gift is tax deductible and PRF will issue a donation receipt.
If an individual makes a scholarship donation to the club and the club in turns writes a check to the scholarship fund, the donation is not eligible.
If the club writes a check to their scholarship fund, the club will receive a donation receipt, but it will have no value for tax purposes.
Will companies with matching gift programs match gifts for these scholarships?
Most companies with matching gift programs will match gifts for scholarships, provided the gift has been made directly to the institution of higher education. If an individual makes a check to Purdue Research Foundation or Purdue University, the company will likely match the gift. CLUB LEADER HANDBOOK | PAGE 11 | PURDUE ALUMNI ASSOCIATION
Check this page at giving.purdue.edu for more information and to find out if your company has a matching gift policy.
How are scholarship recipients selected?
In instances where the Division of Financial Aid (DFA) selects recipient, the DFA bases selection on the written criteria provided in the club's scholarship agreement or endowment. DFA selects incoming freshmen after February 15. Selections for returning students are made after May 1.
If the club itself selects recipients based on written scholarship or endowment agreement, the club must use Purdue's Scholarship Universe for applications and abide by the Purdue Alumni club's awarding timeline.
Club-selected Scholarships
Students can access Scholarship Universe at purdue.scholarshipuniverse.com. The applicant will need to search for the name of your club's scholarship.
Awarding Timeline
MARCH 1  | Application deadline
MARCH 15  | Purdue Alumni shares qualified scholarship applications to clubs
APRIL 15  | Deadline for clubs to select recipients and inform Purdue Alumni
The club may choose to rank recommendations. Please know we recommend that you select several alternatives in the event that one of the recipients elects not to attend Purdue.
Clubs can notify award recipients directly, but need to communicate with Purdue Alumni to ensure we place awards on the club's scholarship account in Scholarship Universe database.
Who decides how many scholarships will be awarded and amount of each?
In instances where the Division of Financial Aid (DFA) selects recipients, the DFA will determine selections based on scholarship or endowment criteria and the current amount in the scholarship fund.
If the club itself selects recipients, the club determines the amount and number of scholarships and must inform Purdue Alumni on both counts. If a club does not communicate recipient(s) and amount(s), Purdue Alumni or the DFA will select recipient(s) based on prior year's information and current balance of the scholarship fund. Club scholarships are typically $500 or $1,000, but can be upwards of $2,500.
What criteria are commonly used to guide the Division of Financial Aid in the selection process?
The club needs to establish selection criteria in writing prior to the creation of the scholarship account. Future changes are permissible for annual scholarships and must be in writing and submitted to the club's regional liaison by October 1. Changes to criteria in existing endowment agreements are more complex and time consuming due to the involvement of the Office of Planned Giving.
Please keep in mind the more layers of criteria used, the more difficult the selection process becomes. The following criteria (in any number of combinations) are commonly used:
FINANCIAL NEED The student must demonstrate need as determined on the Free Application for Federal Student Aid (FAFSA).
MERIT Generally refers to scholastic achievement, but could encompass other criteria such as leadership, work experience, volunteerism, etc. All scholarships generally require a minimum grade point average of 2.65 in a 4.0 system unless otherwise specified.
LOCATION Most clubs indicate the recipient is to be from the club's locality — either defined as an entire state, selected counties, or ZIP codes.
YEAR IN SCHOOL Clubs may designate their scholarship for incoming freshmen only, returning students, or both.
University Speakers at Club Events
University speakers can significantly enhance club events. Purdue Alumni is always open and willing to attempt to accommodate as many requests for speakers as possible. Unfortunately, scheduling and financial realities play a large part in Purdue Alumni's ability to secure a speaker for any given event. The Purdue Alumni Association cannot guarantee that we will be able to provide a speaker for every event planned by clubs. To give us every chance possible to secure a speaker, we ask clubs to follow this process:
Contact your Purdue Alumni staff liaison at least three months prior to an event.
When contacting Purdue Alumni, provide at least a first and second choice of speaker. If you are uncertain as to whom to invite, the club staff can assist in choosing a speaker that will suit the theme, demographics, and tone of the event.
In addition to a first and second choice of speaker, provide several specific, available dates for the event. Please note that our speakers will NOT respond to requests for "any Tuesday in the summer." It MUST be a specific date.
Provide details regarding the event. For example, will it be a golf outing, or a picnic?
Please be patient! It may take several days for us to have any information to provide you; however, we will make every attempt to secure your first choice.
While it may seem easier to contact your first-choice speaker directly, we STRONGLY DISCOURAGE club leadership from extending the invitation. Just like you, University speakers are volunteers at club events. Purdue Alumni is respectful of time commitments and scheduling issues these speakers may have while maintaining a relationship. We ask that our clubs be equally respectful, by allowing the Purdue Alumni Association to handle the negotiation process.
Purdue Alumni Awards Program
The following are awards given by the Purdue Alumni Association. A list of previous award winners is available on the Purdue Alumni website.
BOILERMAKER PRIDE AWARD Established in 2005, the Boilermaker Pride Award was introduced to recognize a club leader who has contributed time and service to the alumni club program and the Purdue Alumni Association over a period of time. Annual nominations are due May 1. Requirements include current or previous service as a club officer and being a current Purdue Alumni member. A special awards committee will select the winner and present him or her with a plaque at the Annual Alumni Leaders Conference. A nameplate will also be added to the plaque in the Purdue Alumni Association office. Click here for past recipients.
SPECIAL BOILERMAKER AWARD Established in 1981, the Special Boilermaker Award honors a member of the Purdue faculty or staff who has made significant contributions to improving the quality of life and/or the educational experience for Purdue students. Students, alumni, faculty, may submit a nomination. Annual nominations are due June 1. A University committee led by a Purdue Alumni staff member will select the winners, who are recognized during an on-field presentation at a Purdue home football game. A nameplate is added to a plaque in the Purdue Alumni Association office, as well as to an obelisk located on the Purdue Mall. Click here for past recipients.
Appendices
Download the latest version of the Handbook (PDF)
to view all the appendices
Appendix A: Purdue Alumni Club Agreement
Appendix C: Disclosure Agreement for Student Addresses
Appendix D: Event Checklist and Budget Estimate Sheet
Appendix E: Sample Alumni Interest Survey
Appendix F: Purdue Alumni Club Constitution Template
Appendix G: Treasurer's To-Do List
Appendix H: Liability Insurance Coverage
Appendix I: Accident Reporting and Investigation Form
Appendix J: Auctions and Raffles as Fundraisers
Appendix K: Agreement to Maintain Funds for Purdue Alumni Club
Appendix L: Steps to an Effective Club Board Meeting
Appendix M: Sample Club Board Meeting Agenda
Appendix N: Timeline When Alumni Staff Visit Club Event
Appendix O: Statement of Integrity and Code of Conduct
Appendix P: Speaker and Travel Reimbursement Qualifying Criteria
Appendix Q: Member and Non-Member Pricing Guidelines
Updated 04/01/2021