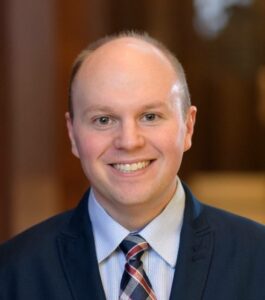 As Assistant Vice President for Marketing and Communications, Steve Schlenk leads a team of more than 20 professionals while overseeing editorial, design, and multimedia efforts. He previously served Purdue for Life as senior director for content strategy, editorial, and project management.
Steve earned his bachelor's degree from Purdue's Brian Lamb School of Communication and an MBA from Purdue's Mitchell E. Daniels, Jr. School of Business. He also has a certificate in fundraising management from IU's Lilly Family School of Philanthropy.
He joined the University Development Office in 2014 as a member of the philanthropic communications team and was responsible for various projects, including managing social media for the Ever True campaign. Before that, he served eight years on staff with Purdue Musical Organizations.
He has presented as a guest lecturer at Purdue and on topics ranging from social media marketing to international advancement during the Big Ten Development Conference, an Association of Fundraising Professionals luncheon, and the CASE District V Conference. He has also served as a CASE awards judge, and he has participated in a case study by Hootsuite about the record-setting Purdue Day of Giving.
Outside of the office, Steve has served on the Purdue Convocations Friends Advisory Board, the Lafayette Symphony Foundation Board of Directors, and as president of the board for the Indianapolis Men's Chorus.