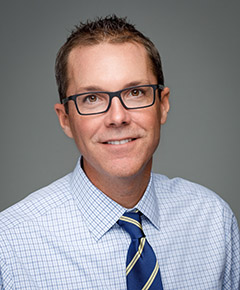 Nathan Utz is the Vice President of the Office of Industry Partnerships. Nathan provides leadership and strategic direction to OIP and supports a holistic and integrated approach to relationships with industry partners.
Nathan brings a results-oriented approach to his work and has a long-history of building relationships with industry. Previously, Nathan was at the University of Notre Dame, where he served as the senior director for corporate relations and helped build a best-in-class industry engagement team. The team's model was geared toward increasing corporate partnerships and overall financial support for the university and under Nathan's leadership they achieved several record years of production. Nathan was also the academic advancement program director for the university's College of Engineering, where he redefined academic fundraising and assisted in securing more than $150 million towards engineering priorities.
Nathan was a partial owner of a Chicago-based private engineering/architectural consulting firm responsible for business development, client relations, public presentations, strategic marketing and project management. In his 15 years in industry, Nathan gained significant experience in managing all aspects of multi-million dollar engineering projects, including team management, written proposals, funding agreements, personnel decisions, engineering alternatives, financial analysis, budget projections, project coordination and final project delivery.
Nathan holds a B.S. in Civil Engineering from Notre Dame University.