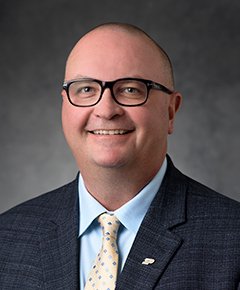 Matt Folk is the President and CEO of the Purdue for Life Foundation. Additionally, Matt serves as Vice President of University Advancement and Alumni Engagement at Purdue University, reporting directly to the President.
The Purdue for Life Foundation acts for the benefit of Purdue University and its alumni. The foundation itself encompasses the Purdue Alumni Association; the University Development Office, including the President's Council and John Purdue Club; and Alumni Services, Alumni Lifetime Learning, and Alumni Campus Living. As CEO, Matt oversees all aspects of alumni-facing organizations and fundraising for Purdue University, including communications, learning, engagement, and stewardship.  
Prior to being named CEO of the Purdue for Life Foundation, Matt was President and CEO of Technology Marketing Corporation (TMC). TMC is a large sales and marketing firm, representing many semiconductor and electromechanical components. Matt held engineering, distribution, sales management, divisional VP, and corporate management job functions, including multiple CEO stints during his 28-year sales and marketing career. 
Matt is a 1991 Electrical Engineering graduate of Purdue University, and he has been heavily involved with his alma mater ever since. For many years, he has served as President for the Boiler Business Exchange of Indianapolis, a group of over 2,000 business owners who are all graduates or die-hard fans of the university. Goals of the group are to drive visibility and increase engagement in the central Indiana area and facilitate business-to-business exchange for alumni. 
In this position, Matt was in charge of many highly successful engagement and fundraising activities for the university. Additionally, Matt is a longtime member of Purdue President's Council, an active Lifetime Member of the Alumni Association, and has been responsible for multiple scholarships on campus. Lastly, Matt is a passionate Purdue fan and long-term member of John Purdue Club, where he serves on the Brees National Executive Leadership Committee. In 2016 Matt named the Purdue Soccer Fields in memory of his parents, Loren and Donna.
Matt and wife Mary live on their nearby horse farm. Their daughter, Naomi, is a May 2021 graduate of Purdue's nursing program.